Light Commercial Vehicles (LCVs)
Commercial Accident Repair
We can do full body shop repairs on vehicles up to 3.5 ton and cosmetic repairs up to 7.5 ton.
Our highly trained technicians at H & J Burgoyne Ltd. will ensure that your vehicles are restored to the manufacturer's strict tolerances by employing the latest realignment equipment and recognised repair procedures.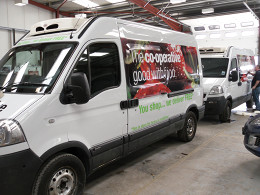 Before your vehicles go through to our paint shop, a thorough quality inspection is carried out to ensure that the accident damage has been repaired to the highest standard. Only then will your vehicle go through for preparation, priming and colour coating in our spraybooth and oven.
Our low bake commercial oven means we can return your vehicle quickly and with a hard baked, durable high gloss paint finish.