Car Accident Repairs
Repair Process
It is your choice where your vehicle is repaired and the insurer must meet all reasonable costs of the repair.
Your insurance company engineer will arrange to inspect the vehicle and agree figures with our City & Guilds Approved Estimator by using our fully computerised advance management estimating system, which is linked to the estimating methods of Audatex and GlassMatix.
Our Estimator will carry out a full inspection of your vehicle prior to submitting the report to insurers of the extent of the accident damage. All required parts will be ordered ready for the repair process to begin and once insurers have agreed the work to be undertaken the repair process is underway.
Accident Repair Engineering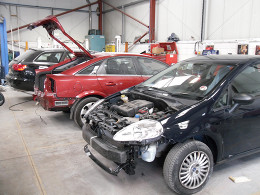 Our technicians have available all modern appropriate tools and equipment to ensure your vehicle can be easily and professionally repaired. Needless to say this includes hydraulic ramps, air tools etc. For vehicles that require recovery, we have a recovery vehicle, so please call even if you cannot get your vehicle to us!
The provision of the latest techniques in re-alignment together with manufactures recognised repair procedures ensures that all repairs will pass our strict quality inspections. All engineering work is completed before finishing work is conducted, just as in the manufacturer production line, prior to final preparation, priming and accurate colour match painting.
Car and Van Repair Workshops
Our fully equipped workshop ensures that vehicles under repair do not have to be left outside whilst undergoing repairs. It also ensures we have ample space when conducting body/chassis straightening work.
Only the highest quality materials are used throughout the repair process and this includes the use of two pack primers and top coats, which are applied by our highly skilled paint technicians within our onsite purpose built spraybooths and ovens.
Low Bake Oven - Car Respraying and Paintwork Repairs
When your vehicle first rolled off the production line the paint was 'baked' on in industrial ovens. If you are spending money on paintwork repairs you would expect the same high level of finishing as on the production line. Our low bake oven ensure a controlled and dust free environment, quicker and better quality spraying and constant drying times. In summary, a quality finish!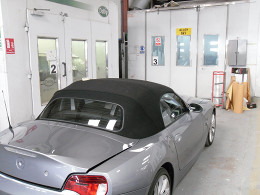 The colour code will have been noted and checked, the paint will then be mixed on a state-of-the-art paint mixing scheme/system. This attention to detail ensures that colour match and final finish meets or exceeds the original manufacturers' specifications and with the application of modern materials, paints and equipment, we are able to minimise the time your vehicle is off the road.
Once the paint process is complete we then submit the vehicle for quality inspection prior to re-build of all previously removed parts (Or new). The next stage in the process is to submit the vehicle for re-inspection prior to valet and then final quality control inspection. This ensures that all aspects of the repair have been completed in accordance with the manufactures strict requirements and in order to maintain the integrity of their original warrantee.
Car Repairs - Quality First, Every Time
Our aim has always been to put Quality first - every time. As the motor industry has evolved over the years you can be assured that H & J Burgoyne Ltd. has adopted the highest of quality standards and we continually adapt and change with it to ensure that our commitment to quality is maintained.